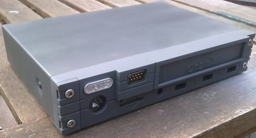 The additional work on that breaking machine is completed and with it, I managed to bent those sheet metal plates within the specified tolerances. After the metal work was finished, I went looking for an appropriate color which in the end became the metallic like color gun grey (satin finish) !
Overall I'm very pleased with the result of the first prototype.
I will now focus my attention on the electric side of the project, starting with those small PCB's that are going to be placed inside the front.

Go see the Orbit project page for some more pictures.